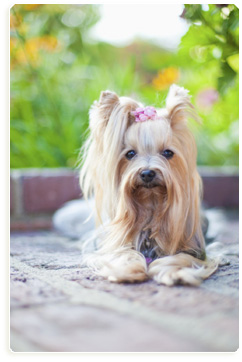 We have two classes of services, the Online Agent and the Full System. The Online Agent enables the general public to buy licenses online, paying for them by credit credit. The Full System is used to manage all aspect of dog licensing, such as generating renewal forms, processing applications, and managing owner and license data. Clients of the Full System often use the Online Agent, as well.
Both services
Are accessed over the Internet through a web-browser.
Have no servers or software releases for you to manage. We take care of that.
Handle a wide range of license types: regular, altered, senior, service, annual, dangerous, lifetime, kennel, and more.
Support a wide range of dog characteristics: age, sex, breed, color, hair, vaccinated, vet, micro-chip, and more.
Work great in smart phones and tablets.
Are secure
- PCI DSS compliant.
- Industry standard secure credit card handling.
- Firewalled.
- Passwords secured with one-way encryption.
- Credit card numbers secured with two-way encryption.
- SSL transport.
- Compliance scanning by third-party.
- Credit card number not viewable by system administrators.
Are robust, having redundant capacity with respect to hardware, power, and network.
The Online Agent
Allows for the buying and renewing of licenses online via credit card.
Is convenient for the general public as an owner can purchase from any place at any time.
Is fast for renewing.
- Online applications can be pre-filled with the prior year information of owners.
- Multiple dogs can be renewed at one time.
Notifies owners with renewal reminders via email.
Supports 'Make a Donation to the Shelter'-type items.
Has a detailed 'Pay-In' report for tying orders, payments, and licenses together.
Brands receipts and the public website with the county or city's information.
The Full System
Manages all aspects of licensing.
Formats applications and receipts for standard 8 1/2" x 11" paper to be printed with standard laser or ink-jet printers.
Formats applications and receipts to go in standard windowed envelopes.
Has an easy-to-use facility for mass-generating renewal applications.
Puts renewal applications into large, ordered, and easy to manage PDF files.
Puts barcodes and OCR-readable fields onto renewal applications.
Brands applications with the county or city's information.
Can process renewals received via postal-mail quickly using a barcode reader.
Has a super-fast OCR-batch procedure for processing postal-received renewals.
Uses a single interface for processing applications whether received via post or online.

Supports different tiers of administrators: Super-user, General, Outside Agent, and Animal Control.

Can allocate license ranges to administrators and constrain them to the ranges.

Maintains a detailed audit trail on system activity.
Provides numerous reports on all aspects of owners, licenses, and orders.
Has a facility for finding and merging duplicate owner accounts.
Can easily generate a list of delinquent owners.
Can easily produce text files for export to other systems.
Has a license search capability for the general public.
Can hide an owner's information in the license search, at the administrator's discretion.
Integrates Google maps into owner address listings.
And much more.